A series of powerful storm systems will impact Western Washington, lasting through the weekend. The final storm will be the strongest and could cause power outages.
We're more vulnerable to power outages this time of year because of new growth and leaves that are still on the trees, which can pull branches -- and maybe the whole tree -- down. There could also be urban flooding because of clogged drains from the leaves that have already fallen.
Utility power outage and contact information | Tips to stay safe | Ferry travel alerts
Latest forecast | Updated weather alerts | School Closures
Thursday
Thursday will primarily be a wet day, with heavy rain throughout the day. However, winds won't increase until Thursday night, with winds peaking 11 p.m. through 4 a.m. Sustained winds will reach the 25-40 mph range with possible wind gusts in 50-60 mph range within urban areas You can also expect stronger gusts in areas north of Everett and along the Washington coast.
Thursday will also be very wet with 1-to-2 inches of rain for the Puget Sound lowlands, 3-to-6 inches for the Cascades and Olympics mountains and possibly more for the south facing slopes of the Olympics.
A Flood Watch has been issued for parts of the region Thursday afternoon through Friday, primarily the Skokomish, Stillaguamish, and Nooksack rivers.

Related: How to maximize your phone battery during a power outage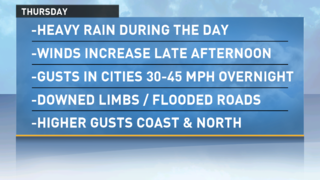 Friday
The winds and rain will decrease before daybreak on Friday with some showers and breezy conditions Friday night.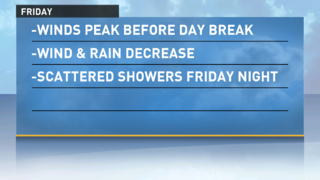 Saturday into Sunday: The strongest of the storms
Saturday will start with light rain but it will increase by late morning and become heavy at times again on Saturday afternoon and evening.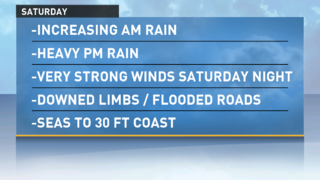 Winds will increase again and become very strong Saturday afternoon into the evening hours. Winds will likely be stronger than those early Friday, but exactly how strong remains in question. Some computer models are indicating the potential for a major wind storm with gusts in urban areas of more than 50 mph.
With that said, we'll have to be closer to Saturday to have a more accurate idea of what to expect.
Wind and rain will decrease Sunday morning. There will be showers, sunbreaks and breezy conditions on Sunday afternoon, but not as wet or windy as the next couple of days.
Hang on to you hats & consider a raincoat vs. umbrella - storms are headed our way! Be prepared before you headed out today & this weekend. pic.twitter.com/0ADfFdeR6F

— WSDOT Traffic (@wsdot_traffic) October 12, 2016
Copyright 2016 KING