SAN DIEGO, Calif. -- The Washington State Cougars are in San Diego to take on the Minnesota Golden Gophers in the 2016 National Funding Holiday Bowl on December 27, and we sent our sports director Darnay Tripp and Evan Closky along for the ride.
Darnay and Evan joined the Cougs on Friday, December 23 and have been documenting their entire trip through social media.
Throughout their time in San Diego, this story will be updated to show you all the activities, events, and even the food. Of course, we'll have the full breakdown of the game itself and will have you completely covered on all you need to know before the Cougs take the field at 4:00 p.m. PST on December 27. On the day before the game, join us for a 30-minute "Crimson and Gray Holiday Bowl Special" featuring interviews, season recap, and more! It airs at 7:00 p.m. on KREM 2.
Be sure to follow along with us on all of our social media accounts including Twitter and Snapchat! Follow along @KREM2Sports, and also follow Darnay and Evan on their accounts too.
Morrow's game show luck pays off for Cougs
FRIDAY
Darnay and Evan are set to take off for San Diego on Friday.
As with their other trips, it is usually an early start for the boys as we send them off. Plenty of coffee and hey, an empty airplane! Admit it, you wish you could do that too.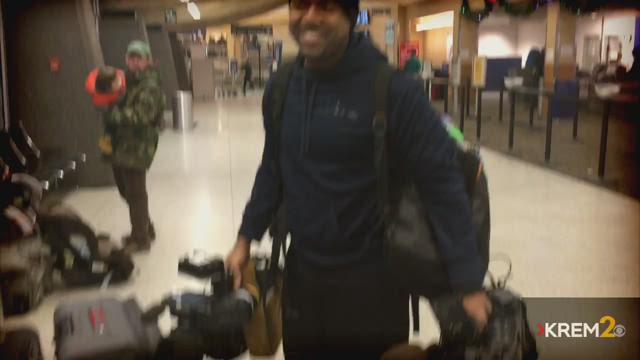 Darnay and Evan landed in San Diego early Friday afternoon where there is no snow like there was in Spokane when they left. They jumped on Facebook live to chat about the scene.
After that, Darnay and Evan had to go to a California staple -- In n' Out. Darnay however, is not swayed in his loyalty to Spokane's D-Lish Hamburgers.
The Cougs hit the practice field on Friday as well and the boys were there to take see them in action.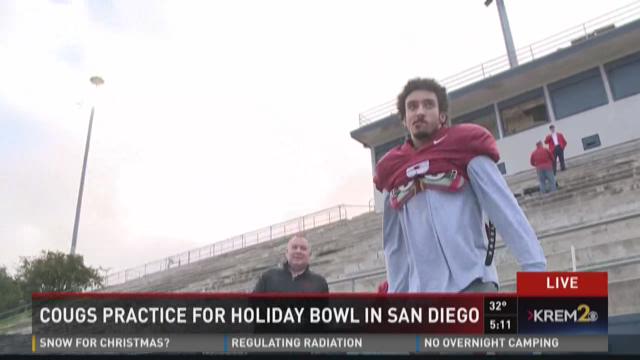 Darnay and Evan had time to find out where the Coug fans needed to be for the lead up to and likely after the game. They checked out Social Tap, which is the official Coug bar in San Diego for the game.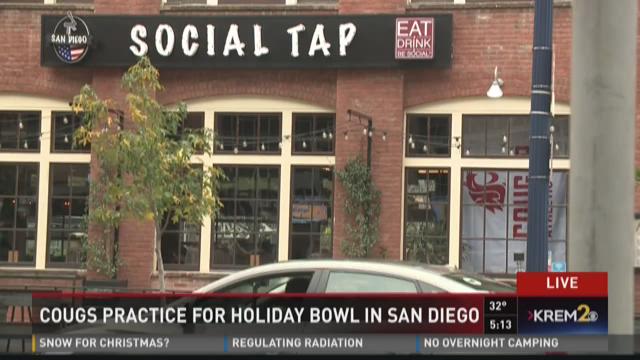 We also found out that Social Tap was well prepared for the influx of Crimson and Gray.
The boys also had a chance to chat it up with WSU Athletic Director Bill Moos who said he is really excited to see his squad in the Holiday Bowl.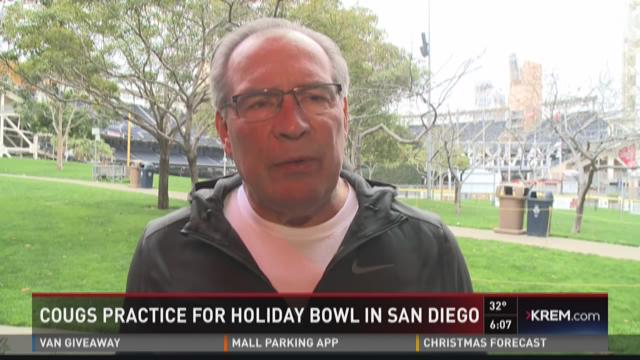 SATURDAY
Forecast for Saturday in Spokane: Snow. Lots of it.
Forecast for Saturday in San Diego: Rain, they got none of it. At least to start the day, according to Evan.
Both the Cougs and the Golden Gophers took a break from football on Christmas Eve to get a special tour of the U.S.S. America naval ship at the Navy base. Darnay and Evan went along for the trip.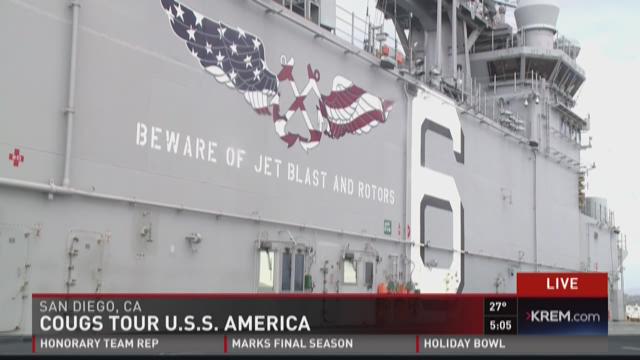 Another moment during the tour was the naming of honorary team reps for both the Cougs and the Golden Gophers.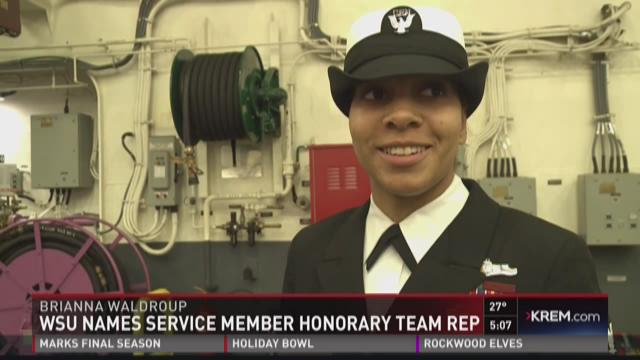 Darnay and WSU's Gabe Marks have had some fun interactions in the past and on Monday we have a great interview in store for you as these two chat it up for the last time. Their relationship is so good, that they talked for a while about a lot of stuff. So much, that we could not fit it all in the special! So here is an extra bit from their interview you will only see here.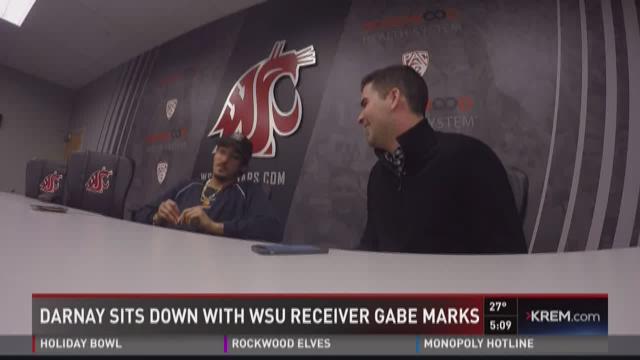 Here is the full interview Darnay had with Marks.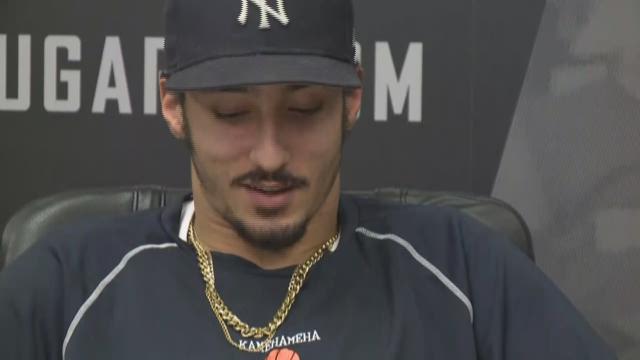 After the tour the players went to go practice and the boys went off to have a little Christmas Eve dinner in 'Little Italy.'
Christmas Day the Cougs are scheduled to tour the San Diego Zoo.
SUNDAY
Sunday was Christmas and though the Cougs players did not get to spend it with their families, they did get to spend it with their second families -- their teammates. Darnay and Evan tagged along as the Cougs toured the famous San Diego Zoo. As Evan said, there are a couple things one must do when visiting San Diego: Go to the beaches, and go to the zoo.
If you have not been to the San Diego Zoo, it is not small. The boys put in quite the workout while following the Cougs.
An overall fun day for the players, coaches, and media.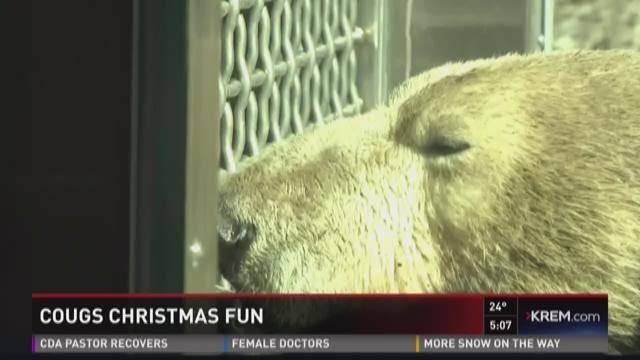 River Cracraft was more than a little excited about feeding the giraffes, too.
MONDAY
Tune in Monday night at 7:00 p.m. on KREM 2 to watch "Crimson and Gray Holiday Bowl Special." A 30-minute show recapping the Cougs' season. Some former Cougs talk about this year's team and Holiday Bowl game, plus an exciting showdown between Evan Closky and Jamal Morrow and Gabe Marks is unfiltered in his sit-down with Darnay Tripp.
In the final day before the game, the events are far more lowkey. There is a press conference scheduled with the coaches and then it is time to focus.
Darnay and Evan joined KREM 2 Morning News on Monday to recap the weekend, but before they left they were met with a bit of a challenge from our morning weather anchor, Briana Bermensolo. Briana is known for her "Friday Dance" that she and her co-anchors Jen York and Brittany Bailey do. She asked the boys if they had a dance prepared for a Cougs victory.
We are not in the business of jinxing teams out here so the boys declined, but Evan, likely because he could not resist, gave us "a little shimmy." Thanks, Evan.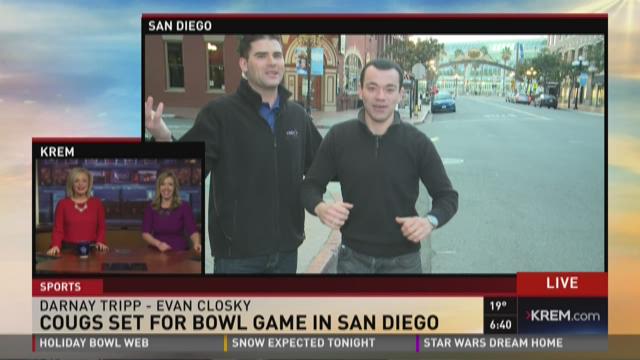 During our Noon show, Darnay Tripp broke down the final press conference for both coaches before the game. We learned a bit more about Minnesota's prep for the game, and of course, Mike Leach did not disappoint on the microphone.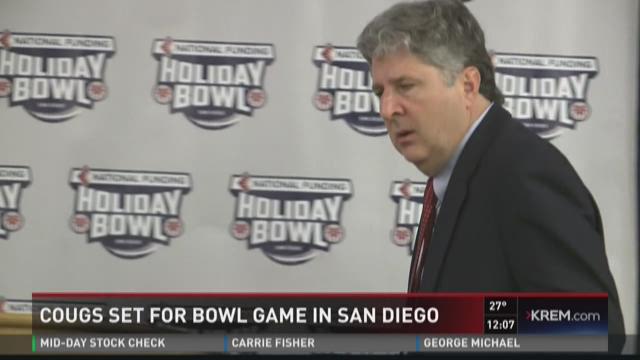 Leach spoke on a variety of topics, and gave his opinion on the recent decisions from Stanford's Christian McCaffrey and LSU's Leonard Fournette to skip out on their bowl games and instead focus on the NFL Draft.
One of Mike Leach's more notable moments came in reference to whether the Holiday Bowl would be QB Luke Falk's last game. Leach said no, which prompted many media members to report that Falk was returning. Darnay and Evan were skeptical however, and rightfully so, as Falk's sister soon quieted those thinking Falk would return by saying he had not made a decision. She would later delete the tweet, however.
Natalee Falk, Luke's sister, quote-tweeted a tweet from ESPN College Football that said Falk was returning and wrote "This has not been confirmed by Luke. He is making his decision after the @HolidayBowlGame."
One thing is for sure, Luke's only focus is on the Holiday Bowl and the Minnesota Golden Gophers. Be sure to tune in Monday night for our Crimson and Gray Holiday Bowl Special, airing at 7:00 p.m. on KREM 2.
GAMEDAY!
Its GAMEDAY! The Washington State Cougars take on the Minnesota Golden Gophers in the 2016 National Funding Holiday Bowl. The game airs at 4:00 p.m. PST on ESPN. Darnay and Evan will have live postgame reaction on KREM 2 News at 10 and 11:00 p.m.
Wake up Cougs fans! It's GAMEDAY! Your Washington State Cougars are set to take on the Minnesota Golden Gophers! The fun is over and it is all business -- at least for the players.
Darnay and Evan had a chance to hang out with some tailgaters and give their final thoughts as kickoff approaches. They even met up with "Mama Cracraft" as she is known on Twitter. She is River Cracraft's mom and is easily one of the most recognizable Coug moms out there. Oh, and she knows how to tailgate -- if you were curious.