A new Quinnipiac poll found Hillary Clinton is losing Millennial voters to third party candidates.
Overall, Clinton holds a narrow lead of 31 percent. But that's down from 48 percent in August, according to a poll of the same age range 18-34.
Libertarian candidate Gary Johnson's support has climbed to 29 percent among likely voters 18-34, according to Quinnipiac. Donald Trump follows with 26 percent and the Green Party's Jill Stein pulled 15 percent, in the same survey.
Overall, most likely voters polled said "they are voting against, not for a candidate," in 2016, regardless of age.
"There's nobody. Trump's ideas are wrong. Hillary is worse. There's nobody worth voting for," said millennial Tim Rennaker, originally from Michigan. "Most of my friends are voting for Trump."
"I really feel like social media has put a loud taste in a lot of people's mouths," said millennial Gabe Evenson, who's still undecided. "I'm definitely going to spend most of my focus looking at the two major parties. At the same time I want to explore all the options out there."
Not the case for millennial Keith Lewis, a Gary Johnson supporter.
"I would just say I'm not a fan of the other two candidates," Lewis said.
"I feel like if I voted for a third party candidate, I would be helping Trump win," said Grant Evans who plans to vote for Clinton.
"Everybody says she's a liar, but I just don't want Trump to be president," Evans continued.
His friend Vanessa Munro also plans on voting for Clinton, but admits reluctantly.
"I wish it was someone I was actually feeling excited about," said Munro.
"When people are young, they want to be inspired," said Professor Mark A. Smith of University of Washington's Political Science Department. "They want to feel like, this is really going to shake things up, and whatever else you might say about Hillary Clinton—she's not a shake things up candidate."
Millennials helped deliver President Obama a second term, accounting for around 19 percent of the total electorate that year.
According to the Pew Research Center, millennials have become one of the most Democratic age cohorts. Professor Smith notes that their numbers have trended more Democratic over the past three election cycles.
"In 2012, Millennials were the best age group for the Democratic Party. Then you go forward to 2016, if what used to be your best demographic now isn't so excited about your candidate, that's a big problem," said Smith. "If the millennials don't show up to vote at all, that only not hurts Hillary Clinton but it hurts all the democratic candidates down ballot."
In Washington State, around 70 percent of registered millennial voters turned out in 2008. The age range of 18 to 24 accounted for around 8 percent of total ballots cast, according to the Secretary of State's Office.
18 to 24 turnout dropped in 2012 to about 60 percent of registered voters in that age range. The 25 to 34 cohort remained near 70 percent.
During the 2016 presidential primary, which only counted for delegate allocation on the Republican side, turnout among 18 to 24 was only 20 percent.
Chart: Voter turnout by age group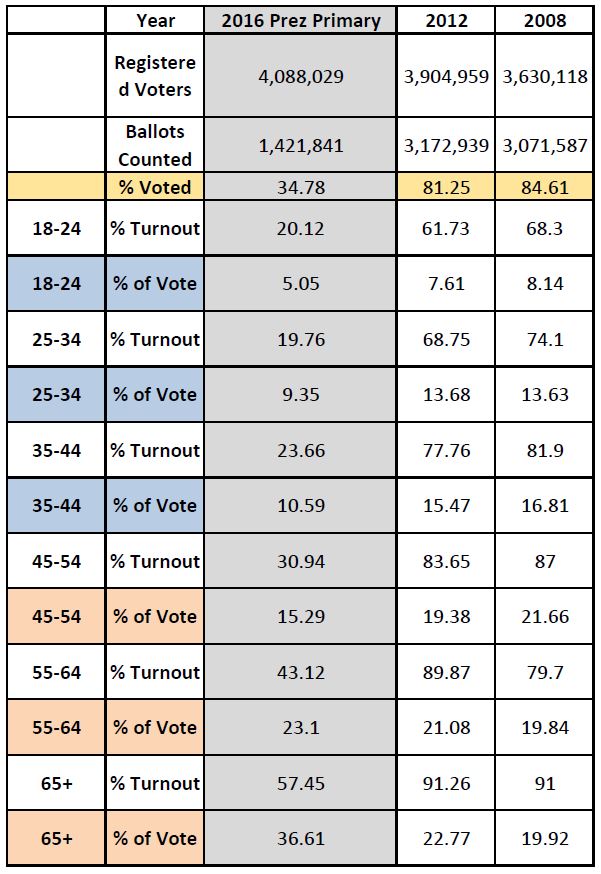 Copyright 2016 KING