VANCOUVER, Wash. – A crash involving a school bus and three other vehicles blocked part of southbound Interstate 205 in Vancouver Friday afternoon.
Evergreen School District said there were about 25 students from Covington Middle School on the bus. The students and bus driver were not injured.
Medics took the drivers of two other vehicles to hospitals. Another bus was sent to pick up the students and take them home.
The crash occurred near Burton Road. The cause is under investigation.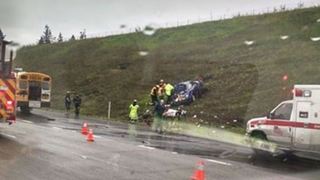 (Photo courtesy: @SWESAlerts)
KGW