Police are asking everyone to be on the lookout for a missing teenager, her newborn son, and the person accused of kidnapping them.
Officials from the Madison County Sheriff's Office say, although there was a confirmed sighting of the getaway van in West Virginia on Sunday, 39-year-old Christopher Derleth, his stepdaughter Katherine Derleth, and her baby, who is also named Christopher, could be anywhere in the country at this point.
There is an AMBER Alert in effect in West Virginia. It was issued Sunday afternoon after the van, a green 1997 Mercury Villager, was spotted south of Charleston. Police say they are working to validate other reports but so far, that was the only credible sighting.
Katherine and her son went missing from a home north of Edwardsville Sunday morning. Officials aren't saying what promoted the kidnapping, but they do say it was planned. Christopher Derleth had previously been ordered not to contact his stepdaughter. He now faces kidnapping and child abduction charges.
"Based on that court order, he's not supposed to be in contact with her," Madison County State's Attorney Tom Gibbons said. "He's not allowed to have her in his custody and he is not allowed, certainly, to be removing her from the jurisdiction."
Five On Your Side has learned the Illinois DCFS recently removed Katherine from a home in Bond County. She and her son were then placed with a foster family. Officials say that family was not there at the time of the abduction.
If you see the teen, her baby, or her stepfather, or if you know where they are, call 911.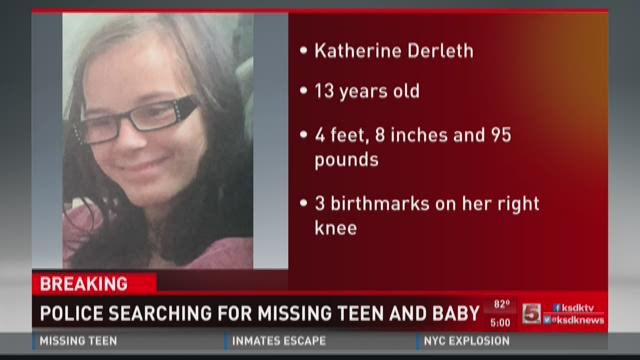 KTVB