SPOKANE, Wash. – Opening statements began Wednesday in the trial of Roy Murry, who faces several charges for the murders of three of his in-laws.
Murry is accused of killing Spokane Fire Lieutenant, Terry Canfield, his wife, Lisa, and her son Jon Constable and then setting their bodies on fire. Murry was married to Canfield's daughter, Amanda.
Murry is charged with three counts of aggravated first degree murder, attempted first degree murder and first degree arson.
Jack Driscoll gave the opening statement for the prosecution around 9:15 a.m. Driscoll said Amanda wanted a divorce from Murry but knew she could not be the one to ask for fear of Murry's reaction.
Driscoll said Murry had several jobs during his marriage to Amanda, but nothing was permanent. Amanda was in nursing school at the time.
RELATED: Police: 3 dead in Colbert fire were homicide victims
According to Driscoll, friends said Murry made many paranoid and delusional statements. He said Murry told a friend he could no longer trust Amanda because she was working for a foreign government and was in bed with several foreign operatives. Murry's friends reportedly said his appearance changed drastically and he started becoming more paranoid.
Prosecutors believe Murry said Amanda was working for the Russians, tricked him into marrying her and her family was in on it.
The night of the murders, Amanda went to work at Sacred Heart and agreed to work overtime. She clocked out at 3:30 a.m.
According to Driscoll, Amanda came home to find the home on fire and her mother's body being carried out.
"Amanda collapsed right there in a puddle of water," said Driscoll.
Amanda reportedly tried to call Roy that night, but he did not answer.
Prosecutors said a neighbor noticed the Canfield's home was on fire and knocked on the door, but no one answered or came outside.
According to prosecutors, a firefighter's helmet was found next to Lisa Canfield's body. At first, Driscoll said firefighters thought someone lost their helmet. He said responders then realized it was an antique fire helmet that belonged to Terry Canfield.
Terry had recently had surgery. Driscoll said his body was so burned, crews could not tell who it was.
Arson K9 Mako alerted fire crews to several areas when they walked through the scene. Driscoll said they were able to eliminate any accidental causes for these fires at the Canfield home; he said they were intentionally set.
PREVIOUS: Fatal Colbert fire turns to homicide investigation
According to prosecutors, all major fuel loads like couches, chairs and closets full of clothes were bypassed by the fire.
"The gasoline seemed to be focused on burning up the bodies," said Driscoll.
Driscoll told the court Murry gave a box of trioxine bars to a woman at a vape shop and told her they are great for starting fires with gasoline.
According to prosecutors, they all died from gunshots wounds and were dead before the fires were set.
Driscoll said seven bullets were removed from Lisa Canfield's body and she had defensive wounds on her arms. He said Constable was shot four times and Terry Canfield was shot five times.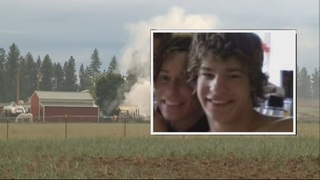 Neighbors reportedly heard three to five gunshots that night sometime after midnight.
According to prosecutors, Murry is a great marksman and rarely goes anywhere without a gun.
RELATED: Ex-Senate candidate arrested in Colbert triple homicide
Following the night of the murders, law enforcement talked to Murry three separate times. Lewiston Police went to his apartment to find out where he had been on the night of the murders. Murry told them he had been camping with four or five friends, but could never give law enforcement his friends' names.
Driscoll said the prosecution believes Murry returned to the crime scene after the murders and an officer spotted a man matching his description. The officer chased the man but was not able to catch him. The officer described the man as six-foot, two-inches tall and thin, which matches Murry's height and build.
Driscoll ended his opening statements by saying Murry is guilty on all charges.
Following a short break, the defense gave their opening statements.
Murry's defense attorney, Tom Kryzminski, said when law enforcement went to question Murry the morning after the murders, he appeared rested and freshly showered. He added that Murry's car did not have any dirt or rain evidence on it that would have shown he had driven it recently.
Kryzminski said Murry is the type of person who would offer help to anyone and physical acts of violence are not in his nature.
In response to the prosecutor's comments on Murry's liking of guns, the defense said Amanda Murry had just as much of an interest in guns.
According to the defense, Murry's relationship with Amanda ended months before the murders and was mutual. Kryzminski said Murry had moved on and was dating a woman in Seattle. He was planning to move to the west side of the state.
On the night of the murders, Murry was nowhere near the Canfield's house, said the defense. Kryzminski said neighbors did not see anything unusual at the home that night.
"What was not found was evidence that Roy Murry was at the house," said Kryzminski. "You will not hear that that was Roy Murry."
According to the defense, Murry was nowhere near the Canfield home the night someone breached the crime scene and was spotted running. He said Murry brought maps to his interview with detectives to help explain how the murders could have happened.
Kryzminski told the court they will hear about tests on the trioxine Murry had and how it had nothing to do with this fire.
He also asked the jury to consider the relevance of the evidence they will hear during the trial. Kryzminski said the only verdict the jury will come back with is not guilty if they really consider all of the evidence.
Following the defense's opening statements, the prosecution called their first witness, Michael Cozteddo. Cozteddo said he lives near the Canfield home and was checking on his livestock the morning the Canfield's were found dead. He said he heard noises coming from the home and went to investigate.
Cozteddo told the court he saw flames and called 911 before running over to the house. He said he tried banging on the front door and attempted to get inside the house, but the door was locked.
David Ferry was the next witness to take the stand. Ferry said he got up in the middle of the night and noticed an orange light coming from inside the Canfield home. He said he saw the flames, but did not hear any gunshots.
KREM