SEATTLE — When students return to Dustin Leithold's American government class next week, the 2016 presidential election won't be a lesson on their syllabus.
"I don't see a lot of substance or policies or actual plans by either candidate, so it's hard for me to set up sort of a debate or a discussion," said Leithold, a high school social studies teacher in the Aberdeen School District.
This year, the teacher said he won't ask his students to put on a mock presidential debate, and he won't facilitate talk about candidates Hillary Clinton and Donald Trump.
"I know where the debate could go, and I know it could make other students uncomfortable," he said.
Leithold's classroom is not the first to skip out on the race to the White House. Teachers in Washington state and across the country are scrapping their traditional lesson plans and grappling with how to teach about one of the most polarizing and unconventional elections of modern time —where the campaigns are full of charged, divisive language that isn't allowed in most classrooms.
While some teachers are dodging the topic altogether, other educators said they are forced to modify the way they've historically taught, taking extra precaution to avoid chaos inside their classrooms. There are also some educators who are taking advantage of the unique campaigns in their classroom lessons.
"Some of the quotes are extreme. Some of the back and forth reactions on how they are responding to the other candidate are not as professional. It's a little bit awkward for teachers to cover things that are not as polite," said Debi Koch, an elementary school teacher in the Federal Way School District.
Should teachers avoid controversial class discussions about this year's election or should their lessons model the way they've taught about previous presidential campaigns? It's a question that has civics education advocates and some teachers divided. They disagree about which solution creates more harm than good for students.
"It makes me worried — very worried. I think (not teaching about the election is) dangerous. I think that all of us — as citizens, as policy makers, as parents, as professional educators — have to be vigilant to make sure that if this in fact a trend that it's reversed as soon as possible," said Diane Douglas, executive director of the Seattle CityClub, a non-partisan group that focuses on civic engagement.
The issue has also raised some eyebrows inside the state's Office of Superintendent of Public Instruction, prompting a response from both the woman who supervises K-12 social studies teachers across the state and a program supervisor at Washington's School Safety Center.
A Shift In Focus
Instead of teaching his students about Clinton and Trump's presidential campaigns, Leithold said he'll focus on teaching his civics class about the process of becoming president.
"I was thinking about doing a set of survey questions that would guide students to what party they might agree with the most," he said.
Sarah Treworgy, an 8th-grade teacher at Alderwood Middle School in Lynwood, said this year she won't teach the same election unit she whips out every four years.
"I feel like I have a responsibility to teach about the election, but I am going to take a more historical approach to it. 'This is how these candidates ended up here. This is what the constitution says,'" Treworgy explained.
Maureen Costello, who leads the Teaching Tolerance program at the Southern Poverty Law Center in Montgomery, Alabama, said many teachers have reported taking that same approach — spending less time talking about the candidates and extra time teaching about the structure of U.S. government and the checks and balances that exist. Others are spending more time teaching media literacy and debunking statements from presidential candidates, she said.
In April, Costello surveyed 2,000 teachers across the country about how the presidential election has impacted the nation's schools. In the five-question survey, more than 40 percent of the teachers who responded said they were hesitant to teach about the 2016 presidential election.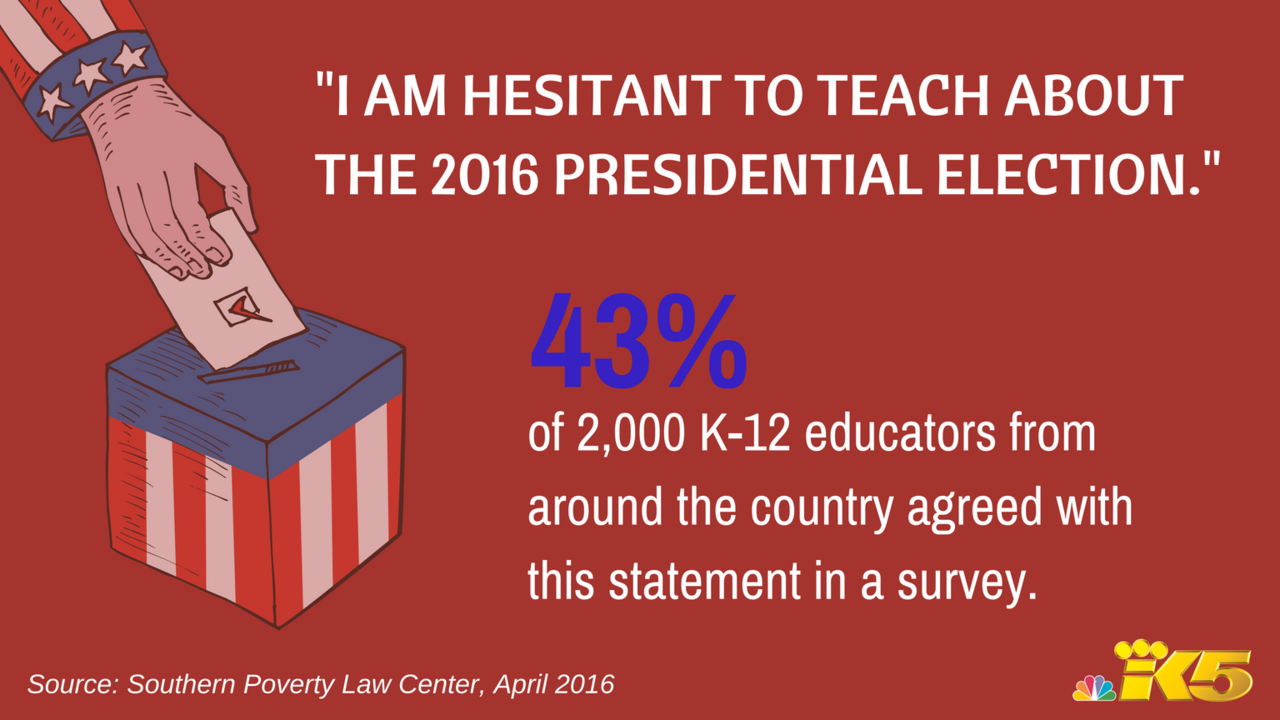 For Treworgy, the tone of the presidential campaign and a lack of "substantive" policies, is what makes her less than thrilled to teach about the election this year, she said.
"I have a lot of students who were very vocal about some of the candidates last spring, and I don't want to get into a big classroom banter or argument about it. It kind of feels tiring," she said.
That's the same concern many teachers share. Some have reported increased bullying, anxiety and fear in class as a result of the charged presidential campaign rhetoric.
RELATED: How Washington children are responding to the tone of the 2016 presidential campaign
Koch, the elementary school teacher in the Federal Way School District, hopes she landed on a teaching solution that would minimize the volatile language into her classroom.
The 4th and 5th-grade teacher said she will ask her students to research both candidates' stance on education — a topic she said is less emotional and more relatable to the students than the other issues on the table.
"I don't want to talk about Clinton's e-mail and how they are responding to the accusation that one candidate is saying about the other candidate," she said. "I didn't really want to get into the extreme issues."
Harder To Stay Neutral
Even in classes where the presidential election will be included on the syllabus, some teachers said it will be difficult for them to hide their personal biases.
Tom Colman, a high school social studies teacher in the Central Kitsap School District, said he's recently had to bite his tongue more than ever in his 31-year teaching career.
"I am working hard to keep my personal politics completely out of this. But that's something that's harder for me to do," he said.
His 12th-grade students — soon-to-be-voters — are divided over their political choices, and Colman said the conversations between them aren't always nice.
"There's a lot more antagonism and just ill will between the students who consider the candidates. I mean, there's a definite dividing line and we have to really practice civility," he said.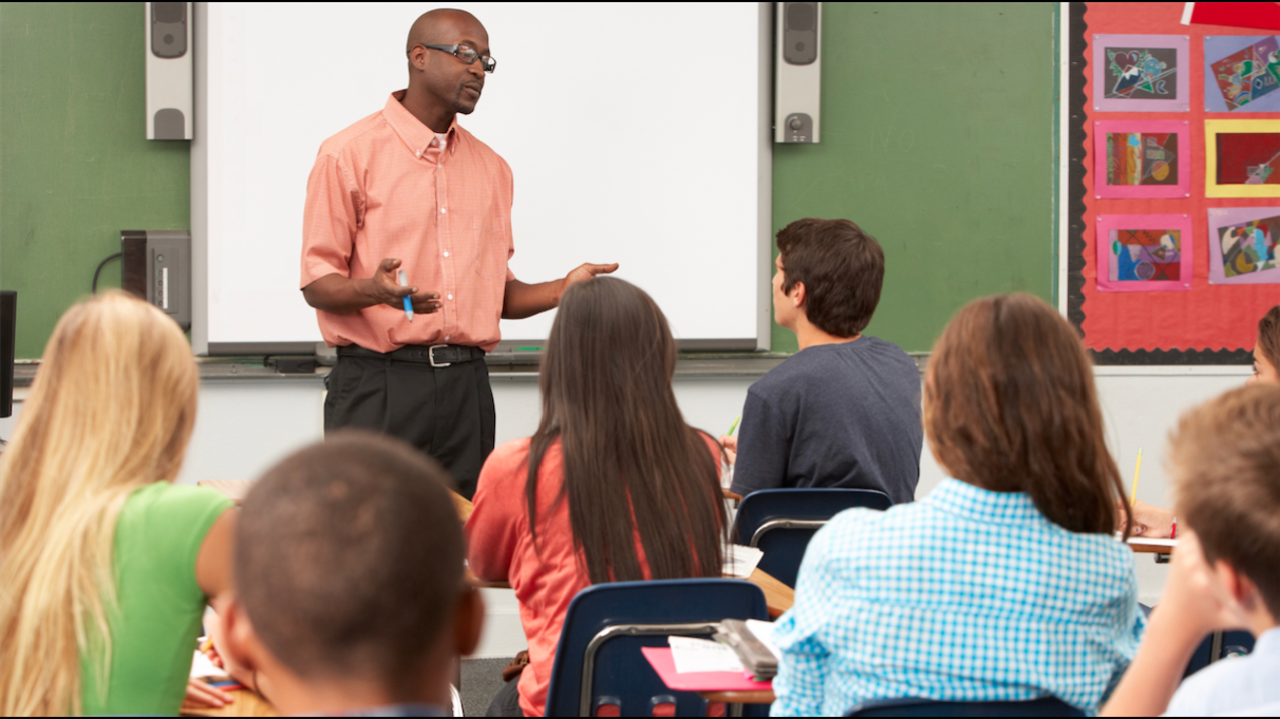 How Could They Not Teach It?
Civics education advocates don't disagree that the 2016 presidential election is hard to teach.
"There's such a level of crassness and vicious attacks. It doesn't serve the idea of civil debate," said Margaret Fisher, director of Washington's iCivics program. "Teachers who have never had the training in how to deal with teaching about elections are going to have a very difficult time."
But the prospect of teachers avoiding it in their lesson plans is making some experts nervous about the fate of Washington students.
"It's a very dangerous sign of our civic health," said Douglas, who leads the non-partisan group Seattle CityClub.
Washington high school students are required to take a semester of civics to graduate, but the 2016 presidential election is not necessarily included in the curriculum at every school. That's up to local districts to decide -- not the state. So it is possible some districts will be learning about civics this fall by looking closely at the election.
Douglas said teaching about elections is critical because it's directly related to whether or not children will vote when they become adults.
That means controversial conversations need to happen, she said.
"The language of violence and hate that has been stirred up around this election makes it more delicate, tough and fearful to have conversations, but that's exactly why it's so important to have them. We should to try to model for children how to talk about difference of experiences, race and point of view in a civil, respectful way," she said.
That's how Will Linser sees it, too. The Bellevue High School social studies teacher said he will heavily focus on the 2016 election in class simply because it's so out-of-the-box. He's especially talking about the unconventional Trump campaign, which has broken historical campaign norms.
"I think it's a unique opportunity. We've never quite seen a campaign like this," Linser said. "He's not following the traditional realm. There was no advertising, and it took forever to put the campaign structure together."
State Education Officials Chime In
Carol Coe, who supervises the state's social studies teachers, is alarmed by teachers' hesitance to talk about the 2016 election in class. She said she'll bring up the issue with the state's social studies teachers at a meeting in mid-September, and she'll direct educators to tools that can help them teach about complex political issues.
"What if a student brings up in class what they heard a candidate say on television last night? What if a student brings up in class some of the tweets that are being broadcast? Do you just ignore that? Do you pretend it's not happening? Or do you allow students to discuss the value of that — the impact that they think it's having on forming opinions?" Coe said.
"I guess I want kids to grapple with that which they are being exposed to in what I call the 'safer' environment of the classroom."
But she's not the first state official to weigh in on how the presidential election is impacting schools.
In a June e-mail, a Washington state education supervisor suggested to some of the state's K-12 teachers that they should take preemptive action to protect students from getting hurt by the 2016 political rhetoric, specifically from the GOP nominee.
Mike Donlin, program supervisor at the School Safety Center, sent the note to a list of harassment, imitation and bullying experts in Washington's K-12 schools.
"Teachers have noted an increase in incidents of harassment, intimidation and/or bullying directed at students whose backgrounds are targeted by the rhetoric," Donlin wrote. "There have even been stories of families moving or students transferring from one district to another, which they perceive as safer, more inclusive."
He warned teachers to anticipate that those situations will "only intensify" when the school year kicks off. He also encouraged educators to create "safe places" for students and teachers to talk, and to "build discussions into lessons" across school subjects.
Copyright 2016 KING