VANCOUVER, Wash. -- A Vancouver family's three pet goats were all shot to death sometime Sunday night in their pen, and now Clark County Animal Control is investigating.
The pygmy goats, named Minnie, Coco and Ginger, were neighborhood favorites for years, with people stopping to pet and feed them.
Now, owner JR Robertson wants to find who did this.
"They were friendly. Everybody could call them over to the fence and feed them through the fence," Robertson said.
Monday morning, he made the horrible discovery at his home on Northeast 38th Street in the Truman Neighborhood Association area of Vancouver.
"I came down to feed the animals after daylight and found my animals dead."
Their pen backs up to a grassy nature trail along SR-500, popular with pedestrians at all hours. It's where Robertson thinks the shooter came from, and knowing his goats, he says they probably walked right up to the person at the fence.
"I don't know what kind of person would do it, a sick person. There's been some people walk by today, a lady with her dog and she was crying and another guy who's just irate about it."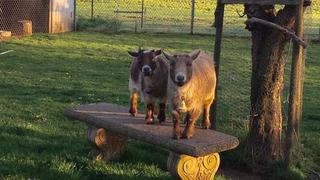 A sheriff's deputy told Robertson the wounds look to be from a .22-caliber rifle. So far, there aren't any witnesses. Animal control is now investigating. Robertson is in tears, and posted a big billboard message facing the trail, aimed at the person who did it. It reads: "To the person who shot my goats, hope you are proud of yourself."
Robertson has made three white crosses with Minnie's, Coco's and Ginger's names on them.
"It's sad, it's like someone shot your dog or your cat. I don't know what to say other than they're going to be missed."
If you know anything, call Clark County Animal Control or the sheriff's office.
KGW