When Dave Moffet dreamed of building a Ski Museum -- he knew it had to have a rope tow. "I think having a rope tow that worked is one thing that would set us apart from any other ski museum," he said.
He also knew what it wouldn't have."You know, what we don't have is just a bunch of old skis, boots and poles," Moffet said. "There are some museums in the country that are that way...."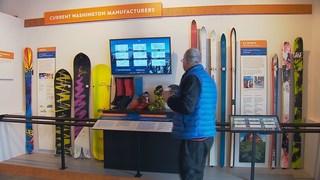 The Washington State Ski and Snowboard Museum opened in October of 2015 -- and instead of tired old equipment, it features silver and gold Olympic Medals from the 1984 games in Sarejevo Yugoslavia won by Washington Winter Olympics legends like Debbie Armstrong.
Dolly and Hugh Armstrong, Debbie's parents, co-founded the museum with Moffett, whose family owned the ski operation at Snoqualmie Summit until they sold it in 1997. They got advice from EMP and MOHAI to build this state of the art museum.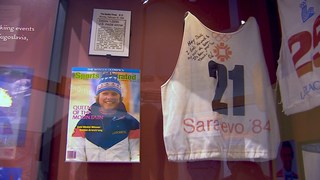 Touchscreens play out gold medal moments, and this place teaches anyone who didn't know that this state makes snow sports legends like Tacoma's Gretchen Fraser, the first American ever to win winter Olympic gold in 1948.
Other things we liked:
A map of all of Washington's ski areas, including some that are long gone -- like one at Mount Pilchuck.
Displays that give a shout out to legendary local equipment manufacturers like LIB Tech and K2.
A few things that are guaranteed to make you grateful for Gore-Tex.
High speed quads.
The Washington Ski and Snowboard Museum is a great indoor attraction, but its founders hope a visit to this place will eventually lead you into the great outdoors.
The Washington Ski and Snowboard Museum is located at 10 Pass Life Way in a commercial building directly opposite The Summit Inn and WSDOT's Travelers' Rest at the top of Snoqualmie Pass—Exit 52 Eastbound and Exit 53 Westbound. It's between the Commonwealth café and Dru-Bru.

KING