Elijah Burnett, of Burnett Forge, uses fire, metal, and muscle to make magic.
"I am gonna start with this plain piece of flat bar stock. And this is actually gonna become a flower," he says, feeding a rectangle of metal into a 2300 degree forge.
Burnett started working metal as a teenager, shoeing horses.
"You gotta get it hot, and hit it hard, but mostly, be precise with your blows."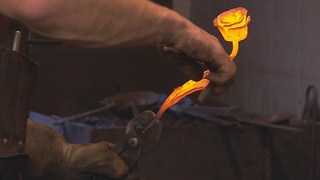 Today he makes a living as a blacksmith, at his backyard forge in Poulsbo.
"It's not easy; it's hard work," Burnett says. "But very gratifying."
He makes many of his tools himself.
Sometimes he uses a power hammer that's more than a century old and can deliver 900 pounds of force per blow!
But he says his anvil is the most important tool of all:
"To an artist blacksmith, this is about 2000 different tools. Every shape, every edge, every radius."
Playing with fire results in the inevitable:
"That's a burn right there, don't even remember how it happened! There's a little danger, but it's like mosquito bites now."
But playing with fire also results in finely crafted pieces that look like they were found in a forest, or plucked from a garden.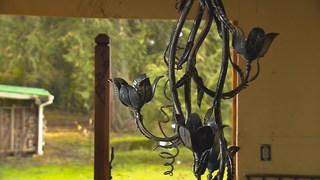 "I get a lot of my artistic inspiration from inspiration from nature."
This blacksmith is making something else here as well -- future craftsmen.
His sons, Jaden and Owen, are both at home working with red hot metal.
"They get to learn how to do stuff with their hands, besides just using their thumbs," said Elijah. "And we get to do something together that's creative and productive, and we like it."
"I just really like watching the metal move, like my dad said. I think it's really interesting to me," said 11-year-old Jaden. "And I've always wanted to do it when I grow up."
This artist blacksmith says he applies a lot of what he learns forging metal to life in general.
"Using the tools that I have. And when I can, making the tools that I need."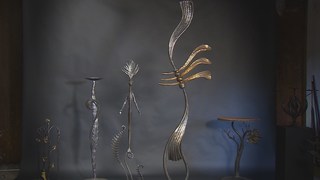 One lesson, in particular, hits home now that his boys are making their works of art.
"Not wasting your time. Take advantage of your time. Strike while the iron's hot."
And that's exactly what Elijah Burnett is doing right now.
KING